Multisport Scoreboard LED Display
Purchasing an electronic scoreboard for football, soccer or other sports is the best decision to offer an even more complete experience for fans. Our options offer the best features and differentials to meet the needs of both spectators and teams on the field.
Browse through our options and discover the best Multi-sports Scoreboards on the market!
Get more information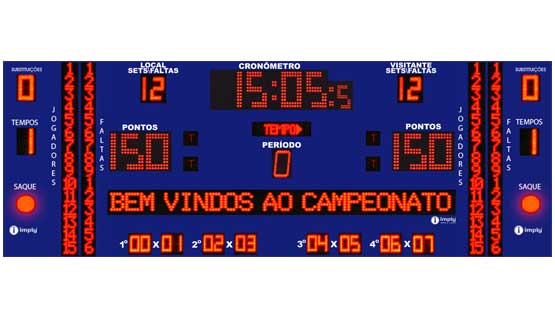 Learn about electronic scoreboard options for soccer and other sports
To watch a game with precision in the timing and score of each team, it is necessary to have Multi-sport Electronic Scoreboards. That's why there's nothing better than having Imply Scoreboards, a benchmark in technology and quality. Here you can choose between panels of different sizes to better adapt to the space you have with the latest technology.
Whether it's gyms, stadiums or an open field, we have the right choice! Check out some of the features available in our products:
Play Time Stopclock: in minutes, seconds and tenths of a second, progressive or regressive;
Score for Local Team and Guest Team;
Collective Fouls for Local Team and Guest Team;
Time Out Requests for Local Team and Guest Team;
Game Period and Set;
Alarm: automatic switch at the end of timing, or triggered by remote control.
The high technology of an electronic scoreboard for football or soccer has LED displays that can be easily controlled and also allows those in the farthest corner of the stands to clearly see the data displayed on the panel.
All parts are made of resistant and easy to install materials and you will have our support team at your disposal, who will be able to help you with any questions or unforeseen with the multi-sport scoreboard you choose. We have distributors in more than 20 countries to facilitate the shipment of our products.
If you have a multi-sport competition space, don't waste time and choose the best electronic scoreboards on the market! Also know the other options of information panels available in our catalog!
Specifications
Messages Display Board (Optional)
MORE INTERACTIVITY
This differential interacts with the crowd, disseminates messages of encouragement (GOOOAL!) presents names of the teams and escalation for the teams (shirt number and name of the athlete, who scored, author of faults, etc.), advertisements, promotions, utility messages, display effects, and more. All this to draw the attention of the audience and host major sporting events.
Agility and Dynamism
SMART TECHNOLOGY
With smart technology, developed specifically for sporting use, the command allows you to configure easily the information and messages on the panel, such as score, stopclock, and more. Also, lets you manage up to 2 scoreboards simultaneously, via cable or wireless.
Plug & Play
PLUG & PLAY
Lightweight and easy to install, for suspended or wall mounting, and very simple to use. For more convenience, Imply® Scoreboards store information even in the case of a power outage.
High Brightness LEDs
LED TECHNOLOGY
With red LEDs, uses the latest technology in LED displays with 100% digital technology, and even from great distances, provides a clear view of information.
High Durability
HIGH RESISTANCE
Developed with the finest materials, manufactured with high strength structure of aluminum, and  acrylic or polycarbonate front, ensuring the best finish, with great visual results.
Multisport Scoreboard LED Display PPE40: perfect for gyms!
The PPE40 Multisport LED Scoreboard is an ideal option to be added to gyms with a court for sports such as futsal, basketball, handball and volleyball. With a size designed to be applied in these spaces, it offers a good view for everyone on the court and in the stands. Its dimensions are:
Height: 200 cm | 78 3/4" in;
Width: 360 cm | 141 3/4" in;
Depth: 11 cm | 4 3/8" in;
Weight: 100kg | 220,4 lb.
In addition to all the basic functionalities of the Imply panels, this model optionally features the Messages Display Board, which transmits messages of encouragement to fans in important plays and can also be used to show the scorer of a goal, among other game situations.
With the Alarm function, an audible alert is triggered automatically at the end of the time count or you can choose to trigger it by remote control. And to get extra income beyond ticket sales, use the advertising space to run ads.
Photos
Multisport Scoreboard LED Display PPE80: the most complete volleyball scoreboard on the market
The Multisport Scoreboard LED Display PPE80 can be used in matches of different modalities, but it stands out in volleyball because it has a specific module for this sport. Discover the differentials of the Imply Volleyball Module:
Displays number of substitutions in a Set for each team;
Results of the past 4 Set's;
Individual score and fouls of up 15 players;
Number of Time Out Requests in a Set;
Indicator of the Team who is serving.
All this information makes it easier for all fans and athletes to follow the course of the match. Thus, the experience accompanying each rally becomes more intense, especially with the participation of spectators who vibrate together with the Messages Display Board.
This volleyball scoreboard is ideal for venues hosting official competitions and major championships, this is the model that has the largest dimensions in the category.
Height: 200 cm | 78 3/4" in;
Width: 604 cm | 237 13/16" in;
Depth: 11 cm | 4 5/16" in;
Weight: 190kg | 418,8 lb.
As it is a complete scoreboard, its dimensions also bring a complete experience regardless of where fans are seated.
Talk to the customer service team and check out more information about our Volleyball Module!
Photos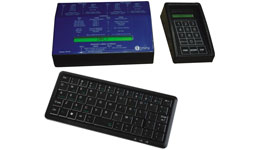 Multisport Scoreboard LED Display PPE10: for indoors and outdoors – smaller courts
For smaller sized courts, the PPE10 Multisport LED Scoreboard is the most suitable. With state-of-the-art technology, produced with resistant materials and easy to install, like the other models in our catalogue, it stands out for being compact and lightweight:
Height: 100 cm | 66 15/16" in;
Width: 170 cm | 66 15/16" in;
Depth: 7,8 cm | 3 1/16" in;
Weigth: 25kg | 55,1 lb.
This feature allows this electronic scoreboard to be installed even on smaller courts without harming the public's view in football, volleyball and other sports games.
PPE10 has, in addition to all the basic functions of our panels, some specific options for volleyball matches, such as counting SETs and indicating which team is serving in that round.
To complement this score, you can even add the Messages Display Board!
Photos
Multisport Scoreboard LED Display PPE10 300C: for indoor and outdoor environments resistant to weather conditions
Although all Imply products have high quality and resistance, the PPE10 300c Multisport Scoreboard goes further. Suitable for both outdoor and indoor environments, this Display is even more durable and designed to withstand unforeseen weather conditions.
It has the Alarm option to announce the end of each game period to the entire stadium. This function can be integrated with the Time Stopwatch so that the alert is triggered automatically, or it can be manually triggered with a remote control that comes with the product.
It is also possible to choose to add the Electronic Messages Display function to announce encouraging and relevant messages for fans, as well as announce players who participated in the events on the field. All this combined with the count of SETs and the server's indicator of the round, as in the PPE10 model. However, the PPE10 300C differs in its measurements:
Height: 300 cm | 118 1/8" in;
Width: 125 cm | 19 1/4" in;
Depth: 7,8 cm | 3 1/8" in;
Weigth: 25kg | 55,1 lb.
The dimensions of this option are excellent for providing a good experience both in indoor and outdoor matches.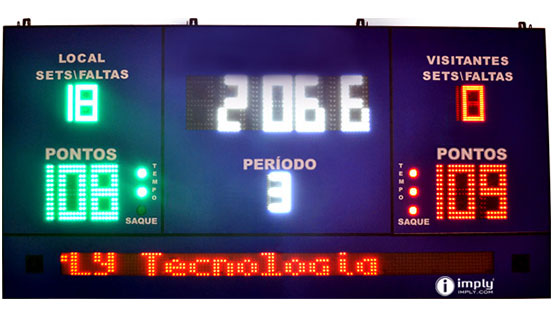 In addition to optimizing monitoring the game score, Imply technology also facilitates management for sporting events. To learn more about the topic, get to know our Ticketing Platform!
Photos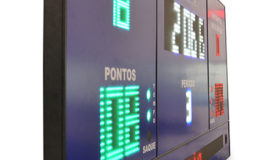 Contact
Get More Information