Official Bowling Lanes
Take your bowling to the next level with our Official Bowling Lane Equipment.
A NEW BOWLING EXPERIENCE! ✨We developed Imply® Bowling with the latest technologies applied to the entertainment. All designed to create a new bowling experience. Imply® Bowling combines various reasons to attract players, offering the most fun way of doing many strikes, and keep them coming back for more!
Get more information
PLANNING A BOWLING? COUNT ON US!
Imply® has the right experience:
✔️We will plan, design, manufacture and install the best solution for your Bowling Lanes.
✔️We export to more than 125 countries.
✔️Custom & Turnkey Solutions.
BOWLING LANES ARE IDEAL FOR:

Specifications
THE REAL WOW! FACTOR!
GIVE LIFE TO YOUR BOWLING!
Our unique colorful RGB LED lighting system along the lanes, creates a light show! The incredible colorful visual effects are interactive and animated according to each play, dazzling players and creating the WOW. The effects are independent for each lane, and generate a sensational result of lighting throughout the bowling surroundings. Besides, our lanes shine under black lights with our amazing Bright Bowling lighting effects! Guaranteed attrractive impact for fun with friends and family, happy hours and birthday parties.
Decoration

MODERN AND ATTRACTIVE LANES
Imply®️ Furniture Line offers dozens of colors and models to create stunning spaces! With high resistance for commercial use, super comfort, a lot of beauty, design and practicality.
Engage the Audience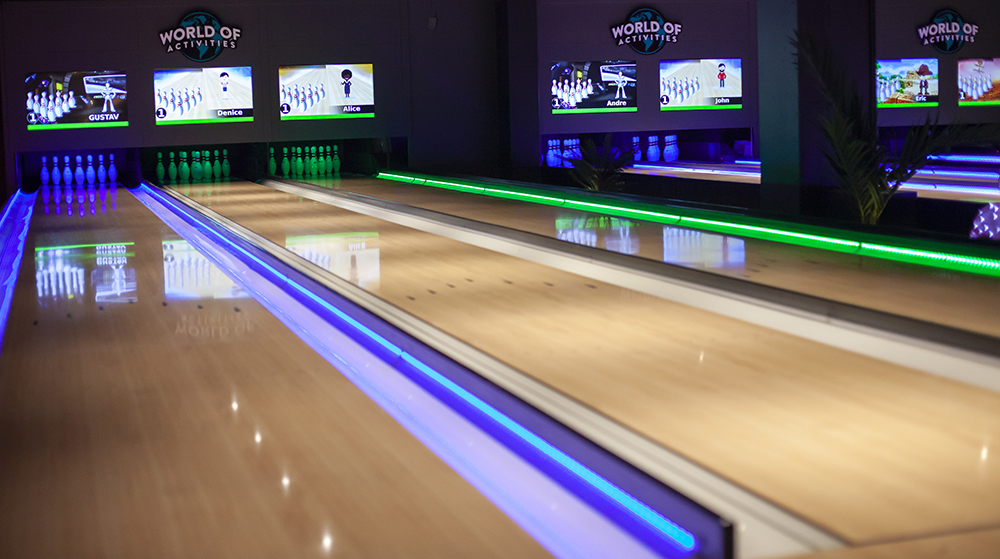 ENGAGE THE AUDIENCE
55″ 4k UHD LCD screens, or Full Panel Projection System, to display scoring information in a stunning way.
Interactive Terminals and Scoring System
TOUCHSCREEN TERMINAL

With bold slim design, illuminated body with RGB LED lighting effects and 18.5″ LCD touchscreen in portrait format, our Interactive Terminal allows players to access all the game control functions with ease.
Imply® BowlingNet Automatic Scoring System is super friendly, very intuitive and easy to use. Developed with the best technologies to offer innovative experiences:
✓ Features play status, game score for up to 6 players and game control options.
✓ Adding players and selecting game options is quick and easy: Name, Category, Team, Handicap and Bumper.
✓ Ball speed is measured by sensors and displayed with each play.
✓ Players can form teams to compete with team scores.
✓ Automatic ranking of scores.
✓ Multi-Languages: Player can choose English, Spanish, Portuguese, French, Italian, German or Russian language.
BowlingNet® Central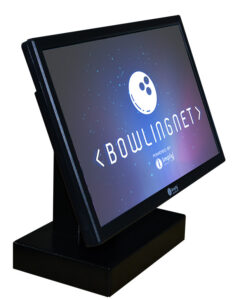 BOWLINGNET® CENTRAL
The Imply® BowlingNet Operation Center offers all the tools to facilitate the commercial operation of your Bowling:
✓ Displays the status of each lane, making it easy to open and close, transfer games, restart, shutdown, and more.
✓ Options for payment methods, timeout for plays, options for displaying ads on LCDs, and more.
✓ Various reports.
Ultra High Resistant Lanes, Bumpers System and Foul Line:

ULTRA RESISTANT LANES
With a focus on durability, produced with 100% solid high strength Phenolic Laminates, Imply® Bowling Alleys remain like new for many years of continuous use (when cleaning recommendations are followed). In addition, our lanes follow the standards of the International Bowling Federation (IBF).
The Pneumatic Bumper System allows kids and new players a chance to get the ball to avoid the gutters, making it much easier to play! The Bumpers option can be activated individually for each player.
The fault line option, with infrared sensor, provides greater security during the games, and helps keep disputes always fair. It is ideal for the most competitive games and championships.
Imply® Pinsetter
SMARTER & FASTER
Imply® 11PSM Pin Resetting Machine guarantees high performance and safety, with a lot of embedded technology. More agile, quieter and smarter than ever, Imply® 11PSM has a self-diagnostic system and a touchscreen display for settings and statistics.
+Advantages
WARRANTY AND SECURITY
We know you expect nothing less than the best. So you can rely on our global expertise and high quality services to ensure high investment returns and make your business a success.
Factory Warranty;
Recognized with CE marking and UL Certification, following international quality standards;
Easy to operate, designed to require minimal maintenance and low operating costs;
To benefit our planet, we developed Green Bowling with sustainable and recyclable materials;
To further simplify the installation process, we developed adjustable bases that provide excellent stability and greater resistance to moisture, minimizing the movement of lanes over time, and ensuring stronger installations.
Imply® helps you to create your project
LET'S START YOUR PROJECT
We will meet all your needs by providing the best solution to create your new Bowling venue, or upgrade your existing alleys. With our wide experience developing and operating other Family Entertainment Centers around the world, we will be your partners to maximize your results. Contact us today to start your project.
What our Customers have to Say?
"We had a very professional and timely contract. I recommend Imply®".  Mr. Phillip N. James, CEO at Desert Palace Hotel & Casino Resort
"Very good bowling. Super professional team. It was nice and fun to do business with Imply®. Thank you." Mr. Sergej Swetlana Hörner, Black Mission Area, Germany
"We are completely satisfied with Imply® products. Imply® increases day by day the quality of products and the relationship between our companies. We are happy to continue working with Imply® in our future projects." Mr. Jean-Pierre Guillard, Neoloisirs, Metropolis Franchising Network Owner and Imply® Distributor in France
"My experience with Imply ® lanes is very good. We are doing business with Imply® since 2004. Imply® does everything to make good business with the customers." Mr. Wim Dorteen, Starplay BV, Imply® Distributor in Holland
"Bowling is one of the main attractions of our Resort. We always seek to innovate in our attractions, and the Bowling has always been a desire of our network and our public. Our guests are surprised." Mr. Pedro Vieira, Marketing Manager of Taua Resorts

"The Bowling technologies are very easy to use. Imply® Bowling fits even small spaces and there is a wide range of designs.  Imply® Bowling products are affordable in terms of price, easy to use, with attractive design, and 100% guaranteed ROI." Ms. Elena Polenovich, Denikom, Imply® Distributor in Russia
"Serious and dynamic company, we are pleased!"  Mr. Gildas Guillard, Neoloisirs, Imply® Distributor in France
"With Imply® Bowling, the game fits to the profile of each player, offering complete fun, regardless of age or ability. A bold design and a practical software complement the qualities! We have all the company's support, clear deadlines, as well as a personalized and professional service." Mr. Adriano Goberth, Amazon Bowling, Brazil
"Exceeded our expectations without a doubt!" Mrs. Mariana Goulart, Jaiminho Bowling, Portugal
"For Bowling we have selected Imply®. We are very happy with Imply® and I strongly recommend their products." Mr. Joaquim De Munck, Legenturia, Belgium
"Imply® lanes were designed for both children and adults to play. I had already put the lanes in another house and it was a success! I had many more guests than any other establishment in the region. I love this smart bowling system. Imply® technicians did an incredible job, both in installation and training. What a great team! I can't wait for the next installation." Mr. Emmanuel Mohamed, owner of Orlando Holiday Homes
"We installed Imply® Bowling Alleys to innovate in entertainment for guests. Since the lanes opened, we have received praise and a lot of demand for this leisure. I highlight the very good service we received from Imply®, from the beginning of the negotiations until the post- sales. Helpful, professional and very objective team." Ms. Ivana Brasão, Director of Portobello Resort & Safari
"We value the guest experience and as we receive many families, we needed an environment where they could interact between all ages. Bowling provides this, in addition to being a great recreational differential! We chose Imply® for its reputation and quality and we are very happy!" Mrs. Beatriz Oliveira, Marketing at Casino Resort
Photos
Contact
Get More Information