Facial Recognition Validator
Solución versátil y de alta tecnología para el control de acceso por reconocimiento facial.
Get more information
Access control with high-tech facial recognition is one of the most efficient and secure innovations today. And you can find it here.
Use the Facial Recognition Validator to modernize access control with high standards of security, performance and practicality.
Count on us to get the best solution. We are ready to help you.
Specifications
How does the Face Recognition Validator work?
Access control through face biometrics identification technology performs identification, authentication and authorization to grant access:
1. Identification: The equipment identifies the presence of an user.
2. Authentication: This technology uses artificial intelligence and deep learning to work with great speed and accuracy, comparing the unique characteristics of the human face for identity verification. The points of the human face are analyzed and compared with data available in the database, to authenticate the user's identity. The system has a database that saves facial biometrics, which serve as authentication keys for users.
3. Authorization: After authenticating the user's identity, the system checks if this user has access authorization for the desired location and time. If the user has authorization, the system automatically opens doors or turnstiles to allow authorized entry according to predefined access permissions. If the user does not have authorization, access is denied.
It is the ideal device to guarantee the highest security for protected environments.
Why does your environment need a Facial Recognition Validator?
Through the facial recognition validator, it is possible to bring even more security to environments, since identity frauds are avoided.
It is possible to manage accesses in a sectorized way and with control by days and times, authorizing or denying accesses according to defined rules.
In this way, the solution guarantees that only authorized users can access the environment.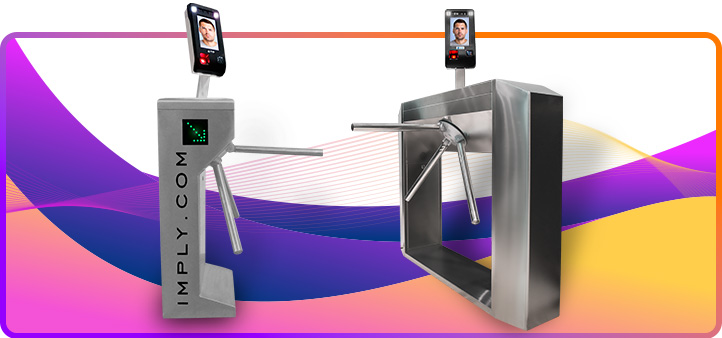 What are the main advantages of Access Control by Facial Recognition?
Some of the benefits of facial recognition are:
– Increased automation and efficiency for faster, more convenient access experiences and shorter queues.
– Loss prevention: Traditional access control systems primarily use cards, passwords or other media to identify users and grant access, but these methods carry risks such as the possibility of being stolen. In the case of facial recognition, lost or stolen media is no longer a risk.
– Convenience: Your face is your access authentication! Users don't need to remember passwords or carry physical media. Finally, you can get rid of passwords and cards.
– 100% Touchless: Access does not require any kind of physical contact. It is the ideal system for touchless and frictionless access control.
– Increased security: Ensures that only authorized people access each area. In addition, it ensures that any unauthorized person has access prevented and is easily detected, allowing the triggering of alarms and notifications to security guards in real time.
– Easy to use: After registration, just position yourself in front of the validator to have authenticated access.
What are the characteristics of the Imply® Facial Recognition Validator?
Imply® Facial Recognition System unites state-of-the-art technology and security.
– Super Accuracy: Imply® Facial Recognition Validator is one of the most accurate on the market: It guarantees accuracy greater than 99.9% (1:N), so that people are identified correctly and with the highest quality.
– Live Detection: This is a critical security feature as it ensures that only authorized users can grant access. The functionality detects representation and replacement attempts, preventing photos or videos from being used for access authentication.
– Strict validation of the registered photo: We reliably ensure the genuine identity of registered users, performing photo validation through authorized managers. In this way, the Imply® Facial Recognition System protects against possible fraud and prevents attempts at representation and substitution, increasing the accuracy and security of the authentication process.
– Agility: Ultra-fast access verification and release, in less than 1 second.
– Super modern design with stainless steel finishes.
– 7″ LCD Touchscreen with screen tilt angle adjustment and adjustable detection distance from 0.5 to 4 meters.
– Several Integrated Readers: In addition to the Facial Recognition Reader, it also has several additional integrated readers: Smartcard RFID, Fingerprint Reader and 2D Barcode Reader.
– RGB LED and Buzzer indicators to indicate Access Allowed or Access Denied. Equipped with an alarm system, sound and visual warnings that prevent access control fraud, in addition to offering better visibility in unauthorized access attempts, with notifications sent to security guards and administrators.
– Speaker for voice messages that allows to customize the messages.
Photos
Contact
Get More Information