Self Service Kiosk TCI Slim
Take the opportunity to add value to your services with the Imply® Self-Service and Consultation Kiosks.
Get more information
The Self Service Kiosk TCI Slim is the perfect solution to serve your customers in more locations. It allows to optimize payments, sales, consultations and services.
✓ Greater availability: Your services are available 24/7 at any time of the day, any day of the week. Whether to serve your customers outside business hours, or during peak hours. The Self Service Kiosk TCI Slim is the right option to ensure that your customers can count on your services whenever they need it. In addition, your services can be accessible in a number of places with large flows of people. With the ease of self-service you reduce distances and ensure more convenience to the public.
✓ Practicality and Agility: Undoubtedly, the Self Service Kiosk TCI Slim speeds up service. It also reduces the queues and the waiting time for assistance at counters or ticket counters.
✓ Optimize your Operations: The Self Service Kiosk TCI Slim optimizes and streamlines processes. In addition, it reduces operating costs. Thus, services can be made in less time, for a greater number of people.
✓ Increase Customer Satisfaction: Allows you to offer a better customer experience with greater efficiency, ease and improvement of services. Thus, the Self Service Kiosk TCI Slim strengthens and expands your relationship with customers, bringing convenience with the approach of service. Assistance is provided in an easy, practical and intuitive way. Certainly, the more agile and efficient the availability of your services, the more satisfied the customer will be!
✓ Increase your sales channels: The Self Service Kiosk TCI Slim makes it easy to scale the volume of sales and service channels with agility.
✓ Safety, quality, and reliability.
We have a complete portfolio of high performance multifunctional solutions for Self-Service. What solution can we create for you? Our experts are always ready to design the perfect solution for your project. Contact us.
Specifications
Customizable Solutions

CUSTOM SOLUTIONS
All of our Self Service Kiosks can be adapted for a variety of purposes to helping any functions you may need for your projects. The settings can be tailored according to your project. We offer a full set of high-performance equipment that may be added to your kiosk: LCD monitor, touch screen, Pin Pad, thermal printer, RFID reader, card dispenser, barcode reader, webcam, sound speakers, among other high-tech options.
Complete set of services

SERVICES PACKAGE
All Imply® Kiosks can be adapted for many different purposes, assisting in your projects with
broad variety of functions. They are excellent for:
Sales
Requests
Payments
Consultations
Services
Printing
Check in
Registration
Cards Supply
Custom Front End Softwares

INTUITIVE USE
We can design the right software, tailored for just you. We can develop intuitive interfaces for users, according to your needs. Our front end developers can work you to help you achieve your expected results and assist your business in becoming more efficient.
Online Management

REAL TIME MONITORING
Monitor the functioning of the terminals with 100% online monitoring. That means you have access to settings and reports of your terminals from anywhere. The system offers multiple tools to facilitate your management, without any complications.
Security

ANTIVANDALISM
Developed with the finest materials to ensure strength and durability, Imply® Kiosks are totally vandal proof.
Ergonomics

ACCESSIBILITY STANDARDS
Appropriate to various biotypes, with innovative design.
Appealing Design

PERSONALIZED FOR YOU
The modern design and the side panels with exclusive RGB LED lighting draw the attention of users. In addition, the appearance of your terminals can be fully customized with the colors and logo of your company.
Success Cases

WHAT OUR CUSTOMERS HAVE TO SAY?
"It is an equipment to facilitate the citizen's relationship with the state." Mr. Sérgio Benatti, Economic Development Secretary of Minas Gerais
"The objective of the Minas Government is to improve the service to citizens who, in addition to accessing various services at the terminals, can make payments and eliminate the time spent going to banks or different offices". Mr. Gabriel Ornelas, Specialist at the Secretary of Planning and Management of Minas Gerais
"The project is very relevant for Sanepar, with a focus on customer satisfaction. Services are provided intuitively, with innovation and technology. Imply® Group offered the best financial and technological combination to meet our demand. We highlight their ability to seek agile solutions for unplanned demands." Ms.Vanessa Marochi Duran, Sanepar Commercial Coordinator
"Due to its mobility, the Self-Service Terminal allows its installation in places easily accessible with large crowds of public such as universities, municipal agencies, etc. It also streamlines the service to users, eliminating the need to join queues to purchase a ticket or exchange the voucher. The IMPLY® Terminal meets the technical requirements of quality and functionality required and was developed specially for ticket sales. In addition to after-sales service, the dedication and professionalism of the IMPLY® Team at all times in the process were fundamental to the success of the project." Mr. Cesar Perrenoud – IT and Innovation Manager at the Ouro & Prata Group
Photos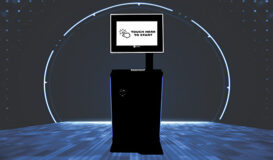 Contact
Get More Information