Membership, Recurrent Payments and Loyalty Program Management
A complete platform to optimize your Membership, Recurrent Payments and Loyalty Program.
Get more information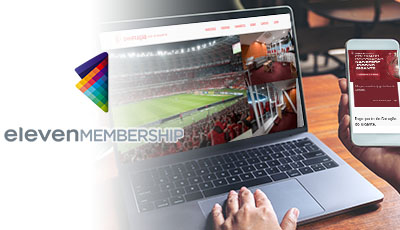 Managing Membership, Recurrent Payments and Loyalty Program has never been easier!
Do you want to increase your recurring revenue? Use ElevenMembership to leverage the attraction and retention of new members. Optimize your strategy with robust tools integrated into a single platform. Analyze dashboards and reports with real-time information.
✓ Multiple tools to optimize your membership management.
✓ Integrated management of new memberships, accounts, services, payments and renewals.
✓ Several relationship and automation tools.
✓ Increase your revenue by selling monthly or seasonal packages.
Specifications
Managing your Membership Program

The ideal Membership solution for you
Design and manage your member programs with smart tools to offer more efficiency, performance and saving time.
Increase Revenue

Increase number of members
Increase revenue with new members, encourage new members to participate by sending discount coupons. Integrated payment management, payment automation, renewals and reminders.
Strengthen your Brand

Your brand needs to be seen
Strengthen your brand and communication, easy to create portal content templates and email communications, with freedom to edit at any time.
Responsive Portal: Connect with your members through a modern, user-friendly portal to facilitate hiring plans, access to products and services, and useful information. We offer a practical tool to facilitate the creation and updating of your members Relationship Portal. Fully responsive, the Portal adapts to every type of device or screen.
Custom E-Mail Scheduling: Scheduling automatic email sending with announcements and warnings.
Custom Solution

Custom platform with everything that you need
ElevenMembership is built, easy to use and offers all the tools that you need to leverage your Membership Program.
Portal with your Domain: The system will be hosted on your internet domain;
Multi-Languages: Other languages ​​can be registered;
Security: SSL Digital Certificate offering enhanced security and online payment capabilities. System access is protected through username and password authentication;
Integration with other systems: Prepared to integrate with other systems through web services;
What solution can we create for you?
Our solutions can be customized to your project. Through our experienced consulting, we add quality and are dedicated to maximizing the results of each client. With creative ideas, reliable technologies, and business models that fit your needs, we are your partners in developing a project just for you.
Success Cases
"Esporte Clube Juventude has always had, among its priorities, special attention to its fans. It is through this philosophy that we are seeking to optimize service, access, ticket sales and all the details related to customer service. We are taking a big step towards excellence with the implementation of a new methodology for customer service. We want the member to have more convenience, comfort and security to check its benefits, access the stadium with more peace and enjoy the range of advantages that the club offers. There are numerous references to quality and safety offered by Imply®. We researched a lot about it, tried to know personally the whole process of the company and came to understand why the brand is a reference in the market. It is based on the numerous benefits offered by Imply® that we have created the belief that we are evolving considerably in the area of ​​fan service. I highlight the concern of the company to offer a product that fits the reality and needs of our club. At all times, since the first talks, there was a lot of interest from Imply® to understand the scenario where the our club is inserted, the culture, the profile of our members and countless other details, which showed that every detail is well planned. That made us extremely pleased." Mr. Walter Dal Zotto Jr, President of Esporte Clube Juventude
Photos
Contact
Get More Information