11 Tips for you to invest in Bowling and get results
Attractive for all ages, Bowling is a game that provides fun times with friends and family. In addition, Bowling is a great business opportunity, which can bring a return on investment quickly. Check out 11 tips for you to invest in Bowling and get results:
✓ Know your market
To know your market, collect information about Bowlings and Entertainment Centers in your region. What are their strengths, attractions and prices? Furthermore, it is important to understand who your potential customers are, their habits, behaviors, wants and needs. What places do they go to, how often and for what reasons? What is the size of the public of classes A, B and C in your region? Collecting this data is very useful to generate insights into how you will position yourself in the market and identify opportunities to differentiate yourself.
✓ Marketing Plan
Based on information about the profile of your competitors and potential customers, you can adjust the mix of attractions, differentials, prices, products and services that will be offered. It is essential to develop publicity actions, as well as actions to attract, conquer and retain the public.
✓ Promoter
This professional will be responsible for receiving customers and also for organizing parties, promoting events, selling and publicizing Birthdays and Happy Hour packages. Organizes and disseminates promotions, events on commemorative dates, marketing and customer loyalty projects. It can also serve customers by phone and social networks, booking times for the slopes. In addition, for promotions, birthdays and events, this professional can help promote diversified recreational activities, aimed at entertainment and social integration. Thus, the receptionist will be able to organize and animate bowling tournaments, interacting with the participants; on birthdays, promote collective activities, give tips on how to play bowling, instructions for the safety of players, among other initiatives.
✓ Music and Lighting
Select catchy songs to inspire good moments of joy and excitement. Various styles can be interesting: pop music, electronica, rock, among others. In the area of ​​the lanes, it's very important to work out special effects: use black light, dancing colored lights, smoke effects, lasers, and music to create the "Bright Bowling" show. So create a contagious and immersive environment that draws all the attention to the lanes, takes bowling to a new level of fun and entertainment, and increases your customers' length of stay. Another fun option are TV's or big screens with animations, video clips, music shows, and sporting events.
✓ Facade, Layout and Interior Decoration
Invest in interior and exterior decoration to captivate the public. Create " Instagrammable" environments. Optionally, you can opt for themed decorations that increase the enjoyment of customers, creating unforgettable experiences. On the façade, invest in external lighting and high-visibility panels with your brand name to draw attention to your venue. Adjust the space and furniture to encourage social interaction, ensuring there are no underused areas or places of excessive movement. One trend is the creation of VIP areas, with bowling alleys in spaces reserved for groups and private celebrations.
If you've the bowling for a while, your bowling will look brand new after changing items such as the panel, furniture, and decor. We offer all the support and the most innovative and reliable products to remodel your bowling in a timely and cost-effective way, according to your needs. Discover Imply® Furniture Line, with dozens of beautiful options. Get inspired and create stunning environments!
✓ Customer service
Service excellence is essential for the success of your business, ensuring satisfaction, loyalty, natural dissemination of your brand and increased sales volume. Therefore, strive for training your team often to create unique experiences for your customers. Carry out periodic diagnosis and satisfaction surveys, and define the necessary actions to improve the operation and service excellence.
✓ Evolution Bowling Show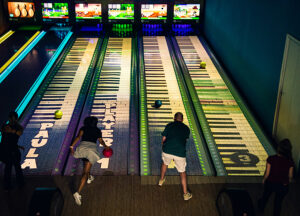 Imply® Evolution Bowling Show is an Interactive Bowling Platform projects 3D visual effects, with artificial intelligence, that interact with the lanes and balls in real time. Mapping animations on the lanes and responsive animations on the balls create experiences your customers will never forget! This incredible attraction helps increase your bowling revenue and cash flow: EBS pays for itself in a few months!
✓ Events, birthdays, parties and happy hours
There's nothing better than celebrating with the ones you care about, providing fun for everyone. Therefore, a very effective action are birthday packages, offering customers in advance to celebrate their birthday in bowling. Also, share happy hour packages to groups of friends and co-workers. Another successful action are the agreements and partnerships with companies for events and gatherings. In addition, you can promote different actions and promotions with a calendar of commemorative dates, sporting events, music, concerts, among others.
✓ Championships
Men's, women's, mixed and children's championships can be held, between participants of an event, birthday, happy hour, or even between professional areas.
✓ Bowling matches good drinks and snacks
There's nothing better than having fun while enjoying good drinks and snacks, right? Thus, a great alternative for entertainment centers is to offer the most delicious options on the menu.
✓ A partner with experience and innovative solutions
Imply® technologies are present in over 125 countries. With the support of Imply® Team, you have full assistance to create or modernize your Bowling. Count on the experience of qualified professionals to meet all your needs. We are ready to serve you with many other tips to boost your bowling success! Contact us today: https://imply.com/engb/contact/